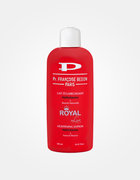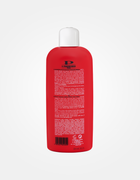 Pr. Francoise Bedon® Lightening Milk Royal 16.8oz: This Formula treats and helps to eliminate scars and marks like caused by pregnancy, age or sun exposure. Moreover, it is enriched by particularly hydrating Sweet Almond Oil to restore epidermal lipids lost. It also contains Vitamin E to protect the skin from aging and free radicals.
This extremely thorough formula was developed by highly qualified laboratories. Intense and very fast lightening treatment made with carrot oil. This nourishing moisturizer corrects dark spots and evens skin tone helping you find a healthier and brighter complexion.

This innovative treatment treats and eliminates scars caused by age, pregnancy, and sun. Lightened and toned, the skin is left cleansed, smooth and nourished.

Directions: Apply it once or twice a day, insisting on hands, elbows, and knees.
Result: It eliminates all marks and blemishes, lights your skin tones and guarantees you a clear, smooth and even skin. IT will leave you light and hydrated skin. With certified result.

Made in France


Ingredients: Aqua (water) Glyceryl Stearate, Isopropyl Palmitate, Glycerin, Cetearyl Alcohol, Paraffin, Prunus Dulcis (Swee Almond Oil), Parfum (fragrance), Liquorice (Glyceryrrhiza Glabra) Extract, Aspergullus Ferment (Kojic Acid), Ethoxydiglycol, Dipropylene Glcycol, Betula Alba, Glycyrrhiza Glabra, Citrus Limonum, Sambucus Nigra, Tilia Cordata, Morus Nigtra, Tocopheryl Acetate (Vitamin E), Ethylhexyl Methoxycinnamate, Allantoin, Sodium Citrate, Sodium Lauryl Sulfate, Sodium Metabisulfite, Disodium EDTA, Limonene, Methylparaben, Propylparaben, P-Cholor-m-Cresol.