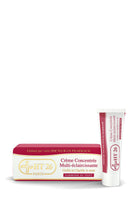 HT26 Multi-lightening Concentrated Cream has been developed with selected active substances and designed using methods at the leading edge of scientific research.

This is a new generation of cream specially designed and adapted to problems relating to hyperpigmentation, particularly for black or dark.

 

HT26 EXPLAINS

Use the EXFOLIATING CLEARING FACE MASQUE twice a week all over the face following the instruction adapted to your face skin type. Apply Multi-lightening Concentrated Cream day and night massaging into the face spots. If you use HT26 INTENSIVE CONCENTRATED CREAM ACTION TACHES in order to get rid of your dark area problem, you can use it as a night cream and HT26 Multi-lightening Concentrated Cream as your day cream in complement with the lotion appropriated to your skin type.