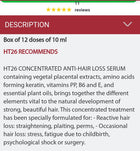 HT26 - Concentrated Anti Hair Loss Serum - Box of 12 doses of 10 ml

HT26 CONCENTRATED ANTI-HAIR LOSS SERUM containing vegetal placental extracts, amino acids forming keratin, vitamins PP, B6 and E, and essential plant oils, brings together the different elements vital to the natural development of strong, beautiful hair. This concentrated treatment has been specially formulated for: - Reactive hair loss: straightening, plaiting, perms, - Occasional hair loss: stress, fatigue due to childbirth, psychological shock or surgery.

HT26 EXPLAINS

INITIAL TREATMENT : 1 ampoule to be distributed over the scalp parting each section of the hair twice a week, preferably in the evening when cell activity is at its peak, enabling enabling HT26 CONCENTRATED ANTI-HAIR LOSS SERUM to act more effectively. Massage the scalp with the fingertips to encourage the absorption of active substances Initial treatment lasts 1 month. MAINTENANCE TREATMENT : 1 ampoule per week after using HT26 CONDITIONING SHAMPOO massaging into the scalp. Maintenance treatment lasts 2 months.