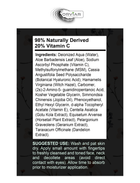 Orviar Advanced Face  Repair  With Vitamin C Booster Serum - Control Acne: clear up acne and prevent breakouts. The Orviar Advanced Repair  Vitamin C   Booster Serum provides hydration & nourishes skin while reducing inflammation caused by acne & sun damage.

Ingredient: Antioxidant

Benefits: Evens complexion, fades dark spots, and promotes collagen production

Best For All skin types

Use: Daily

Pair With: Vitamin E, and Ferulic Acid

Don't Pair With Retinol, Benzoyl Peroxide

Contain with natural & plant-based nutrients that restore skin's vitality for a healthier glow. With regular use, this Vitamin C serum is your best alternative to expensive under-eye bags treatment & acne scar treatment. It has no harsh chemicals, additives & parabens. Cruelty-free & vegan is friendly. Safe for all skin types as it rejuvenates cells for a youthful glow. 

This Amazing Advanced Repair Serum is a powerful pure vitamin C serum that effectively reduces the redness of acne cure and maintains the skin elasticity, moisture, and repairs the skin. It is a fantastic, potent, and natural acne treatment for teens that doubles as a pore minimizer to effectively help reduce acne breakouts, sun spots & hyperpigmentation.

It has the nutrients and anti-aging powers of Vitamin C to restore more beautiful, youthful, smooth, firm, and radiant-looking skin. Ther Vitamin C Serum works naturally to help stimulate your skin's own collagen production to reduce the appearance of fine lines and dark spots. With premium ingredients from natural sources, this formula is rich in antioxidants and clinically shown to help restore a more youthful appearance to your skin.




Key Benefits:


Antioxidants defend against free radical damage.

It will effectively treat acne.

Increases moisture.
Strengthen the delicate skin around the eyes.
Help shrink pores, clear up acne and prevent breakouts.