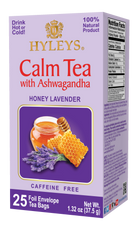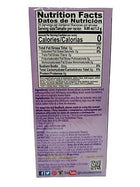 HYLEYS Tea Calm Tea with Ashwagandha - Lavender & Honey Flavor - 25 Tea Bags - Caffeine Free Tea

HOW I HELP YOU:

Promotes a good night sleep

Reduces stress & anxiety

Helps with muscle relaxation

Enhance calmness

Fight restlessness & depression

Chamomile relaxes muscles and organs

Alleviates muscles spasms and eases upset stomachs

Hyleys  calm Teas can naturally help you fall asleep better. This gentle, yet fast-acting caffeine-free herbal tea encourages healthy sleep patterns and leaves you feeling refreshed upon waking. A delicious, soothing blend that's just right for drinking before bedtime. So, relax and drink Hyleys Sleep Teas for a good night's sleep. Recommended for adults.

MAIN INGREDIENTS:

Chamomile Flowers

Chamomile is a well-known herbal sleep aid. It is a mild relaxant that supports balanced mood and helps reduce stress levels in the body.

Peppermint Leaves

The soothing properties of peppermint are ideal to calm your internal systems and allow your mind to relax. The menthol that is naturally present in peppermint is also a muscle relaxant. The relaxation of the muscles can be an enormous component of natural stress and anxiety relief, which promotes better sleep.

Valerian Root

Valerian is an effective herbal sleep aid. Valerian root can in fact improve the quality of sleep patterns as well.




SECONDARY INGREDIENTS:

Rosemary Leaves

Rosemary is a natural sleeping agent, guarding against headaches and brings relief to sore muscles.

Lavender Blossoms

Lavender provides relaxation to the central nervous system. This unique herb has an incredible aroma that is proven to be calming and relaxing. It relieves tension and makes you feel stronger and healthier.

Lemon Balm Leaves

Melissa (Lemon Balm) helps calm the digestive tract and fights depression.




MAKE A PERFECT CUP OF TEA

Drink 1 cup preferably after your last meal of the day. Do not exceed 3 cups in a 24-hour period.

Hot Tea – Pour 8 fl. oz. of freshly boiled water in a cup over your tea bag. Cover and steep for 5-8 minutes. Gently squeeze the tea bag to release any remaining extract.

Iced Tea – Prepare hot tea with 4 fl. oz. of water. Let it cool and pour into an ice-filled glass. The melting ice will dilute tea to serving strength.

These steps directly influence the amount of beneficial components that end up in your cup.

Store in a dry place with no odors.

Disclaimer

ShanShar Beauty takes measures to guarantee high-quality product images and information accuracy. Manufacturing changes to packaging and/or ingredients may not be reflected on our site, however, items will always be fresh. We suggest looking over labels, warnings and directions for all products prior to use, and not just relying on the information provided by ShanShar Beauty.