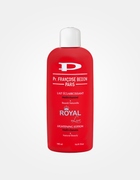 Pr. Francoise Bedon® Lightening Complete Line of ROYAL Set


Body Lotion: Herbal and vitamins, this treatment treats and eliminates scars, age spots, pregnancy spots and sun spots, the skin is clean, smooth and clear.

Face Cream: Multi vitamin care based on plant active ingredients. Fights brown spots, scars, age spots, pregnancy spots and sunspots.

Serum: Depigmenting care intense and fast. It corrects brown spots and unifies the complexion. Effective for phalanges, elbows and knees.

Exfoliating Soap: plant multi vitamins. Purifies the skin, moisturizes and perfumes your skin gently. Lighten your complexion and leave your skin soft, smooth, healthy and luminous.