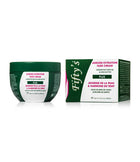 FIFTY'S BEAUTY - Ageless Lightening  Cream  PLUS A exclusive blend to covers your cosmetic needs from fighting premature wrinkles and age lines to firming and toning the skin and keep it clear and healthy.

It includes also natural efficient skin brightening and toning extracts, with enhanced effect to give a more visible bright look, if preferred.

It helps to illuminate the face and improves make-up.

Ageless Extratone Fade products contain Cashew nut oil and Shea butter that are known to be rich in several bioactive and health promoting components.


They have a remarkable moisturizing effect.