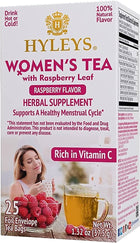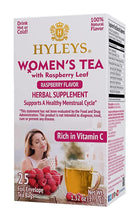 Hyleys Women Tea Raspberry Flavor - 25 Tea Bags - Supports Female Period and Healthy Menstrual Cycle

Description

Drink Hot or Cold
100% Natural Flavor
Herbal Supplement
Supports A Healthy Menstrual Cycle
Rich in Vitamin C

HOW IT WORKS:

Hyleys Women's Tea Herbal Supplement contains raspberry leaf and a proprietary blend of other formulated as a gentle way to support the female system.*
Raspberry leaf, also referred to as the women's herb, has been used historically by midwives and herbalists to help ease symptoms of discomfort, bloating, cramping and mood swings during menstruation.*
The addition of Vitamin C helps support iron absorption.*

*To attain maximum benefit, it is important to maintain a healthy, balanced diet, drink plenty of water, and exercise on a regular basis.

Suggested use

Drink up to 4 tea bags at any time during the day. Do not exceed the recommended dose.

Hot Tea - Pour 8 fl. oz. of freshly boiled water in a cup over your tea bag. Cover and steep for 5-8 minutes. Gently squeeze the tea bag to release any remaining extract.

Iced Tea - Prepare hot tea with 4 fl. oz. of water. Let it cool and pour into an ice-filled glass. The melting ice will dilute tea to serving strength.

These steps directly influence the amount of beneficial components that end up in your cup.

Other ingredients

Natural raspberry flavor.

Warnings

Store in a cool & dry place with no odors.

Please consult your physician prior to the use if you are pregnant, nursing, taking medication or have a prevalent medical condition. Appropriate overages of vitamins & nutrients added to compensate the possible loss on storage during the shelf-life. Do not exceed the recommended dose. Recommended for adults only.




Disclaimer

ShanShar Beauty takes measures to guarantee high-quality product images and information accuracy. Manufacturing changes to packaging and/or ingredients may not be reflected on our site, however, items will always be fresh. We suggest looking over labels, warnings and directions for all products prior to use, and not just relying on the information provided by ShanShar Beauty.