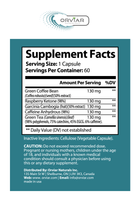 Orviar Naturals

  Suppressant - 

Appetite control supports

- Helps promote natural weight loss Fat Burner supplements. It

 

is designed 

using only the best and most effective natural ingredients in its formulation 

to Control appetite and provide sustainable energy.

Key Benefits:

Keep food cravings in check and your diet on track


Helps promote natural weight management.

Acts as antioxidant support for a healthy immune system boost.