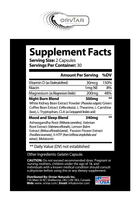 Orviar Naturals  Burn & Lean - Fat Burner supplements are meant to push your weight loss goals to the next level. If you were looking for weight loss products your search ends here!

 helps to work towards losing that unwanted belly fat. It supports fast weight loss by providing fuel for your brain, heart, and muscles so you can boost energy and burn fat during low-carbohydrate intake. 

Add on a solid meal plan and workout routine, it can help make you lose your belly fat for good!

Key Benefits:

Formulated with a proprietary formula that supports weight loss and increased energy

It contains powerful fat-burning ingredients that support a low-carb diet.

It is designed to help you to increase your metabolism and burn fat as fuel.