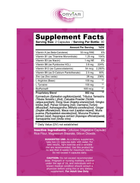 Women  Natural Supplement - Helps boost libido levels - 60 Capsules:  

Do you want to bring back the lost fire in your bedroom and relationship? Do you want to increase your drive? If your answer is yes, then this

 Women Natural supplement

 is the best solution for you. It is highly effective and has no side effects. It is an aphrodisiac herb that is used to enhance vitality and improve drive for women.





This Women Natural increases your desire and triggers arousal by increasing blood flow to your body. It is commonly used as a natural booster for women and menopause supplements. It is highly effective in increasing your libido, boosting your desire and improving your performance.

It can be a helpful way for increasing sexual flame and desire. The Women Natural may be helpful for increasing the sensitivity of a woman's erogenous zones, further increasing its libido-boosting qualities. It naturally stimulates the production of testosterone and boosts your libido.

Key Benefits:

Heighten sexual response.

Helps boost libido levels.

Increase stamina.

Natural stress reliever.

Mood enhancer.

Aides in enhanced sexual stimulation.

Act as a sexual tonic and immunity booster.

Increased blood flow through the body.

Increases energy and enhances the overall body performance.