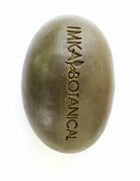 IMKA BOTANICAL - EXFOLIATE SOAP Enriched with Organic Morniga Oil

EXFOLIATE NATURAL BAR SOAP Enriched with Organic Morniga Oil
Softness, Confort & Acné Cure
GLOWING COMPLEXION
Traditional Handmade


SAVON NATUREL EXFOLIANT
Enrichi en Huile de Moringa Organique
Douceur, Confort &Traitement de l'acné
ÉCLAT DU TEINT
Fabrication Traditionnelle

e 150 gr - 5.2 oz. Net wt

Black, Olive & Dark Skin
Peaux Noires, Mates & Métissées

Key Ingredients:
Organic Moringa Powder, Organic Moringa Oil, Pure honey, Palm oil, Coconut oil, Purified water
Lemongrass Essential Oil.
Moringa soap contains more than 90 nutrients, 46 different antioxidants, and all 8 essential amino acids.